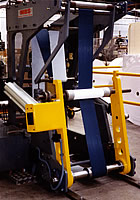 A wide range of pneumatic, hydraulic and motorised designs are available, from simple lifting arms to fully automatic, PLC sequenced loading systems.
MDS Ltd reel loading packages can be designed to suit almost any application and handle reels from a few kilos to several tonnes in weight.
"Lift & Run" units can be supplied with onboard drive systems, side-lay adjustment, web guiding systems and remote shaft / chuck inflating.