New Machine Design
From its central UK location in Gloucestershire, MDS Ltd manufactures a wide range of converting and process machinery from its existing portfolio, whilst offering a complete design and manufacturing service, tailoring equipment to customer needs.
Arrange a Site Visit
If your proposed machinery needs to be incorporated into an existing line, or you require detailed discussion about a project, an engineer will arrange a site visit to offer advice, survey the proposed location and take all necessary dimensions.
Proposing a Machine or Design
Having obtained all the available information,
MDS Ltd engineers will generate a proposal, taking
mechanical, electrical, environmental,
access and manual handling criteria into consideration.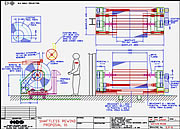 MDS Ltd will undertake a detailed feasibility study of
project requirements on request and produce all
necessary reports and schematics.
Design Detail and Manufacture
| | |
| --- | --- |
| | Once a proposal has been accepted and contract terms agreed, engineers will develop the design and produce full detailed drawings for component manufacture. Once everything is manufactured, the machine, or system will be fully assembled and the control systems and guarding fitted. Where possible, all equipment will be tested at the MDS Ltd works prior to delivery, however some equipment will need to be fitted to the customer's machine for testing. |
Delivery Installation & Commissioning
| | |
| --- | --- |
| Using both MDS Ltd transport and machine haulage contractors, a full delivery, installation and commissioning service will be provided - Including positioning the equipment, full alignment, leveling and connection to customer services. Commissioning and extensive running trials will be carried out prior to hand-over. | |
Training Support and Documentation
Once the new installation is up and running, full operator training will be given prior to hand-over. MDS Ltd will be on hand to support the equipment and provide any system backup required. All new equipment will be supplied with the relevant documentation and certification and will carry a minimum of 12 months warranty, subject to contract.